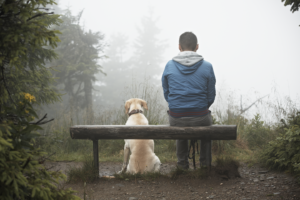 Um, no, that's not what we meant.
The MSDA dog shows, which are part of  our "Spring Event" each March, are "unbenched", as are nearly all other U.S. dog shows. The Westminster Kennel Club Dog Show (New York City) and The National Dog Show (Philadelphia) are two benched shows. At a benched show, entered dogs are required to remain on-site throughout the show hours and be available in designated areas ("on benches") unless they are in the show ring or taking a necessary break. Benched shows provide a great opportunity for spectators to meet and interact with many dogs and their owners.
A Washington Post gallery of photos from the March 2017 Crufts dog show in Birmingham, England includes many photos of dogs on their "benches". Also, a couple pictures (especially #33) of humans sharing that space.
At unbenched shows, the dogs and owners/handlers are not required to stay once their judging is completed. However, even at an unbenched show, all the dogs don't immediately run from the ring and head directly home. If you are interested in getting acquainted with different breeds, a dog show is a wonderful place to start. Do some breed research ahead of time, then check the published schedule for judging times for the breeds that interest you. Although owners and handlers will be busy preparing dogs for judging before their judging time, you can view the dogs in the show ring and then afterwards have a chance to ask questions and make friends with owners, handlers and the dogs themselves. Show dogs are, not surprisingly, very friendly and love attention. Similarly, owners, handlers and spectators know their breed very well and usually are happy to share their knowledge.
Here are some resources to get you started:
MSDA list of sporting dog breeds
AKC information for all recognized breeds