Welcome! Here MSDA members share their dog-related life events. This includes news about titles, wins, hunt test legs, field trial points, litters and so much more. News about humans is also welcome, as long as it somehow relates to dogs and/or MSDA. Of course, not all news is cheerful; we also mourn the passing of our beloved dogs and of MSDA members and their close relatives. If you have something you would like to share here and/or in our monthly newsletter, scroll down a bit to fill out the form, or send your information directly to the MSDA Member Milestones Chair, Melissa (Missy) McMunn via milestones@mdsportingdog.org .

Carolyn McGraw writes: Misty (Edlyn's Backfield in Motion For Liberator) finished titles in scentwork (SIN, SCE), barn hunt (RATO), flyball (FD, FDX) and dock diving (DS) so far this summer. She is continuing her training in preparation for Toller Nationals in October in Bethlehem, PA where she will enter her first WC hunt test. Carolyn, please send us a picture!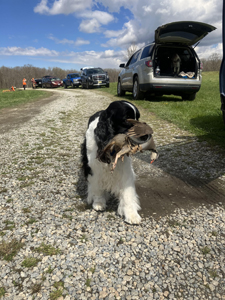 Loreen P: CH Kayndee Feldanser Lucy In The Sky With Diamonds JH, WDX, CGCA (Lucy) – 12 years old and she walked the length of two football fields to bring her bird all the way back to the truck! I'm really proud of my girl; dogs are our best friend! (June 2022)
________________
MEMBERS, SHARE YOUR MILESTONE!
Thanks for sharing and/or being interested in our member milestones! In the old days, when we would share our "brags" at in-person meetings, it was customary to also make a donation. If you would like to continue this tradition, or would just like to express your appreciation of this page, and MSDA, by making an extra contribution, please use the "Donate" button below. However, this is totally optional.
Donations are processed by PayPal, which does not share your account information with MSDA. You do not need to have, or create, a PayPal account to make a contribution. Maryland Sporting Dog Association, Inc. is a Maryland nonstock corporation and operates as a tax-exempt entity under 26 U.S. Code Section 501(c)(4). Contributions or gifts to MSDA are not deductible as charitable contributions for Federal income tax purposes.
________________