Saturday April 15, 2023
8 am – 4 pm
Rebel Ridge Farms in Elkton, MD
MSDA's Annual Field Day — a FUN day of field work for bird dogs of all experience and skill levels — was Saturday April 15 at Rebel Ridge Farms in Elkton, MD. This was our seventh year, a record number of dogs signed up and we had a great day. (Except for that 30-minute downpour.)
Once registered, admission was for the full day and there were many field training, and other, activities available. Most of the action was at the flushing, pointing and retrieving groups' fields and ponds. Non-field activities included CGC/CGC-A/Trick Dog (TKN) testing, introduction to CPR for dogs, briefings on safe gun handling, a tolling demonstration, gundog scurry, rally try-it, and an opportunity to view a pair of nesting bald eagles (and their eaglets). The clubhouse was open, and we returned to our Field Day tradition of a sumptuous potluck lunch buffet.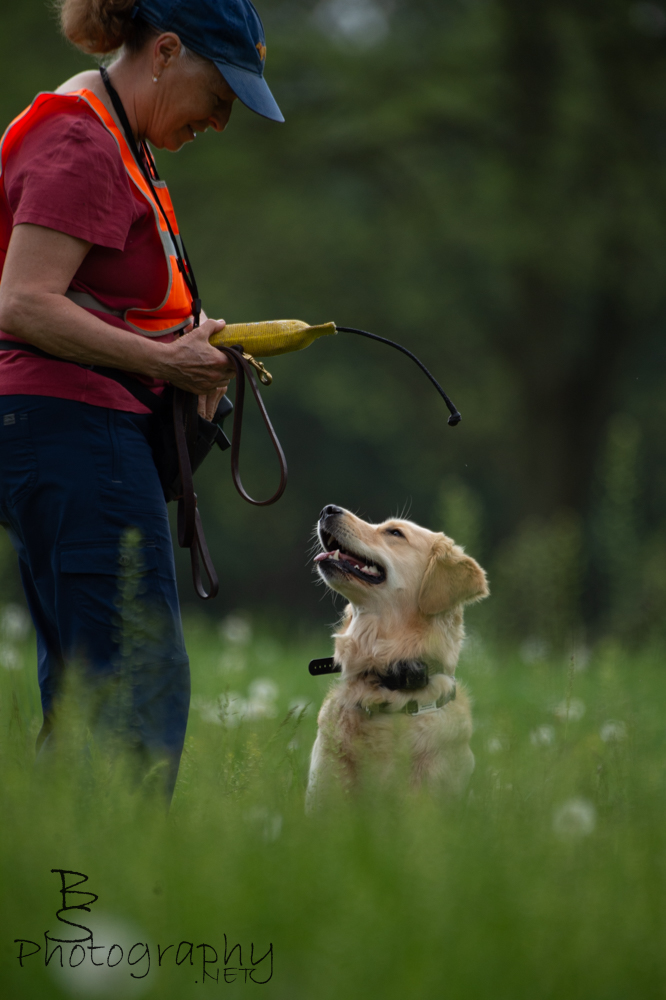 Bryan Sirotkin of BSPhotography was on the property taking candids of the many of the dogs during training hours. His MSDA Field Day photo galleries are located at https://bsphotography.zenfolio.com/mdsafieldday2023. (You'll need to enter an email address to gain access to the actual photo galleries. All photos are available for sale.) 
Look who attended! We had one or more dogs signed up from each of the following breeds: Airedale, Boykin Spaniel, Brittany, Chesapeake Bay Retriever, Clumber Spaniel, English Cocker Spaniel, English Setter, English Springer Spaniel, Epagneul Breton, Field Spaniel, Flat-Coated Retriever, German Shorthaired Pointer, German Wirehaired Pointer, Golden Retriever, Irish Red & White Setter, Irish Water Spaniel, Labrador Retriever, Nova Scotia Duck Tolling Retriever, Pointer, Poodle, Spinone Italiano, Vizsla, Weimaraner and Welsh Springer Spaniel.
You do not need to be a club member to attend Field Days. Like most other MSDA events, it is open to all dog lovers. Though activities are targeted at Sporting Group dogs who are interested in hunting, hunt tests, and field trials, Field Day welcomes all "birdy" dogs. Field Day is designed to accommodate everyone from true beginner dogs (who have never met a bird) to experienced master hunters.
Rebel Ridge Farms is a private property located in northeastern Maryland and has:
250+ acres of specially-managed sporting dog training areas connected by a driveway that runs the length of the property
Eight major field areas, up to 1,000 feet long, with low to medium cover
Four large ponds and several smaller ones
Property edged by large trees and dense cover
Parking adjacent to each of the fields and ponds
QUESTIONS?
The Field Day Committee members, with general areas of responsibility, are listed below. Feel free to contact any of them with your questions.
Pamela DeSmidt, FieldDays@mdsportingdog.org: Field Day Co-Chair, including registration. We tried some new things in 2023. If you have comments, questions and/or feedback (positive and negative), please email Pamela. We try to make Field Day better every year and we really appreciate input from all attendees!
Sherry Seibel, RetrieverChair@mdsportingdog.org: Field Day Co-Chair, including volunteer coordination.
Sally Eck, Pointer@mdsportingdog.org: Training activities for pointing breeds.
Steve Roth, HuntingChair@mdsportingdog.org: Training activities for flushing breeds.
Gary Seibel, FieldDayRetrievers@mdsportingdog.org: Training activities for retrieving breeds.